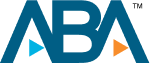 Insignia Pressure Cooker Injuries
Insignia Pressure Cooker Recall: What Burn Injury Victims Should Know
If you or a loved one has suffered a burn injury from an Insignia pressure cooker, understanding your rights and the available recourse is often essential. Best Buy has recalled Insignia pressure cookers due to a significant burn hazard. This page serves as a comprehensive guide for those affected and how we can help file a lawsuit or claim if you were burned from an Insignia pressure cooker. Call our pressure cooker lawyers at 800-337-7755 or Chat with our live agents today.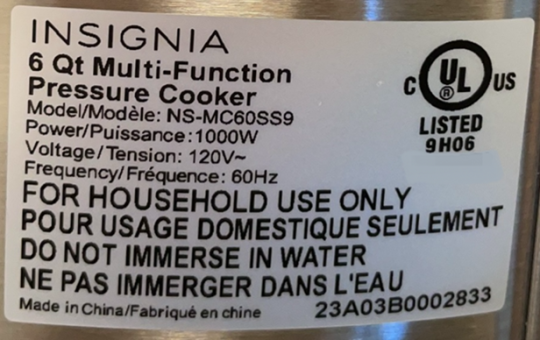 Overview of the Recall
Best Buy has recalled their Insignia pressure cookers in collaboration with the U.S. Consumer Product Safety Commission (CPSC). The reason for the recall is that the pressure cooker's lid can detach during use while it is still pressurized, posing a burn hazard to users. More specifically, according to the CPSC recall notice, the pressure cooker has incorrect volume markings on the inner pot. This can cause consumers to overfill the pot and hot food and liquids to be ejected when the pressure cooker is vented using the quick release method or opened while its contents are pressurized, posing a burn hazard to consumers.
Details of the Recall:
Recall Date: October 30, 2023
Units Affected: Approximately 930,000
Sold At: Best Buy stores nationwide and online at BestBuy.com and Amazon.
Purchase Period: October 2017 through June 2023
Price: About $50-$120
Manufactured in: China
Reported Injuries
There have been numerous instances of the Insignia pressure cooker's lid detaching, resulting in burn injuries. At the time of the recall:
Total Incidents: 31 reports of the pressure cooker lid detaching.
Resulting Injuries: 17 burn injuries, ranging from first-degree to third-degree burns.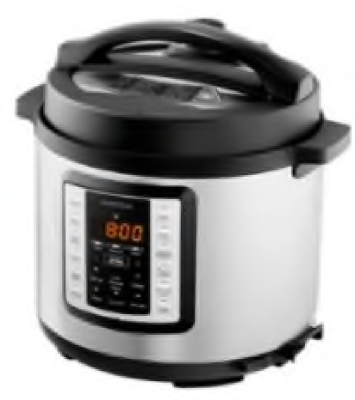 The Hazards
The primary risk posed by the Insignia pressure cooker is the detachment of its lid during use while still under pressure. When a pressure cooker's lid detaches unexpectedly or after the user thinks all steam has been released, it can release hot contents and steam suddenly, causing severe burns. Injuries can range from minor first-degree burns to more serious third-degree burns, requiring extensive medical care.
This recall involves Insignia Multi-Function Pressure Cookers with model numbers NS-MC60SS8, NS-MC60SS9, or NS-MC80SS9, and inner cooker pots with model numbers NS-MCRP6NS9 and NS-MCRP6SS9, sold separately as replacements. The electric pressure cookers and inner cooker pots are six- and eight-quart capacity. The brand name INSIGNIA appears on the front of each unit and on its permanent on-product label. The model number of the recalled pressure cookers is also printed on the permanent on-product label on the side of the cooker. The inner cooker pots are black with a non-stick coating and embossed markings indicating cup and liter measurements.
Consumers should always check that the inner pot is not filled beyond two-thirds capacity when pressure cooking, that the lid is fully locked before pressure cooking is started, and that the floating locking valve has dropped before attempting to open the lid when pressure cooking.
What To Do If You Own An Affected Model
If you possess an Insignia pressure cooker affected by the recall:
Stop Using Immediately: To prevent potential injury, cease using the pressure cooker right away.
Return & Refund: Best Buy is offering full refunds to consumers. To initiate your refund, bring the pressure cooker to any Best Buy store.
Legal Recourse for Burn Injuries
For those who have sustained burn injuries due to the malfunctioning of the Insignia pressure cooker:
Seek Medical Attention: Prioritize your health by getting the necessary medical treatment.
Document Everything: Take pictures of your injuries, the pressure cooker, and keep all medical records and receipts.
Consult with a Burn Injury Lawyer: If you believe your injuries are a direct result of the pressure cooker's malfunction, you might be entitled to compensation. This compensation can cover medical bills, lost wages, pain and suffering, and other related costs.
Our legal team has handled hundreds of burn injury lawsuits, especially those linked to product recalls. We are here to provide guidance, evaluate the strength of your claim, and represent your interests diligently.
FAQs
1. How do I know if my pressure cooker is part of the recall? Check the model number located on the bottom of the unit. If unsure, contact Best Buy directly or visit their website for further details.
2. Can I continue using my pressure cooker if it hasn't shown any issues? No. If your pressure cooker is part of the recall, cease use immediately to prevent potential harm.
3. I was burned, but I don't have an Insignia pressure cooker. Can I still file a claim? Each case is unique. While this recall specifically concerns the Insignia pressure cooker, if you've been injured due to another brand or product, consult with a lawyer to explore your options as we've handled claims against many pressure cooker companies.
Contact An Insignia Burn Injury Lawyer
The recall of Insignia pressure cookers by Best Buy underscores the importance of product safety and consumer rights. If you or a loved one has suffered due to this product, understand that legal recourse is available. Our dedicated team is here to provide guidance, support, and strong representation in ensuring that your rights are upheld.
Client Reviews
Get in Touch
1

Free Consultation

2

Available 24/7

3

Serving Florida, NJ, NY, and Washington, DC.
Fill out the contact form or call us at
(800) 337-7755
to schedule your free consultation.